Politicians continue to pressure banks' mortgage servicing businesses.
Senator Barbara Boxer: -
Dear Attorney General Holder, Secretary Donovan, and Mr. Smith:

I am extremely concerned over reports that banks continue to violate the rights of homeowners and the terms of the National Mortgage Settlement (NMS). As a condition of the NMS, participating banks agreed to ensure certain basic consumer protections in exchange for legal relief. However, while the banks have been relieved of that legal uncertainty, struggling homeowners continue to face a seemingly patchwork system that leaves them at risk of losing their homes.

A recent survey of housing counselors in my own state of California found widespread violations of the NMS. Among the most troubling findings of the survey, which was conducted by the California Reinvestment Coalition, large majorities of counselors reported that despite the settlement's requirements, the largest banks still frequently were failing to:


Provide borrowers with a Single Point of Contact who was accessible, consistent or knowledgeable;
Stop the foreclosure process while borrowers were negotiating in good faith for a loan modification – a practice known as dual tracking; or
Honor timelines for responding to, and deciding upon, borrower applications for loan modifications.

In addition, the survey found that the banks continue to lose documents and improperly deny borrowers the assistance they seek to stay in their homes. These violations have meant that California homeowners – especially those in the most vulnerable populations – still are not receiving the assistance they need to stay in their homes, causing unnecessary harm to families, neighborhoods, and the state's economy.

I strongly urge you to investigate the violations reported in this survey and to hold the banks accountable by taking strong enforcement actions. Too many Californians already have lost their homes unnecessarily during the foreclosure crisis due to bank malfeasance or error. It is essential that you take swift action to ensure that the banks are meeting their obligations under the terms of the settlement and that struggling homeowners receive the assistance they need.

Sincerely,
Barbara Boxer
United States Senator
What some politicians fail to realize is that all of a sudden banks are overwhelmed with the mortgage volumes they have to process and service. The mortgage servicing arms of banking organizations these days operate with severely reduced staff levels and are simply being overrun by new loans heading their way. Dealing with delinquencies and mortgage modifications becomes challenging when departments are facing sharply higher volumes.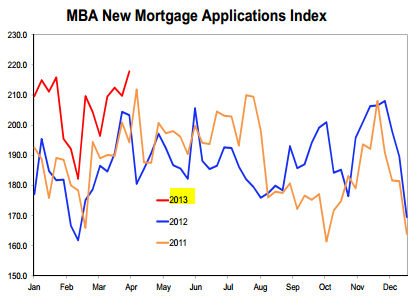 Source: DB
This pressure is forcing banking organizations to curtail mortgage volumes they are able to service. As a result, non-banking organizations are expected to take on an increasing role in servicing US mortgages. Not having to deal with the same degree of political and regulatory pressure, non-bank mortgage servicers are starting to ramp up. Smaller, more nimble, and not as concerned about their image or the Dodd Frank rules, these firms are expected to take advantage of the situation and grab market share.
Source: Barclays Capital
SoberLook.com
From our sponsor: