Friday's US jobs report combined with the September FOMC decision has significantly altered market expectations for the timing of the first hike by the Federal Reserve. The Fed Funds futures implied probability of a 2015 liftoff has dropped below 30%.
Source: barchart
In fact the expected trajectory of the rate hike probability has shifted in a similar fashion it did after the September FOMC meeting.
We see this shift in sentiment reflected in the 2-year treasury rates move on Friday.
Market participants are becoming uneasy about the loss of momentum in US labor markets. This latest concern comes on the heels of a number of other headwinds (
discussed here
) that resulted in the FOMC's September inaction on rates and weaker
growth projections
.
The softness in the labor markets is not limited to
the latest payrolls report
, which missed economists' forecasts. This year for example has been marked by downward revisions in estimates, as the Labor Department consistently overestimated job creation.
Another indicator that analysts have been focused on is the civilian labor force participation - which started declining again after leveling off for about a year. The US now has the lowest rate of participation since 1977.
The loss of momentum in the labor markets seems to be broader than just the manufacturing and energy/resource sectors. To be sure, the jobs situation in the United States is significantly better than in a number of major developed economies, but the improvement pace seems to have stalled.
Source: Deutsche Bank
To make matters worse, the wage growth acceleration many economists (including the Fed) have been promising never materialized (at least not yet). US wages continue increasing at around 2% per year and the concerns around wage pressures seem to have been overblown.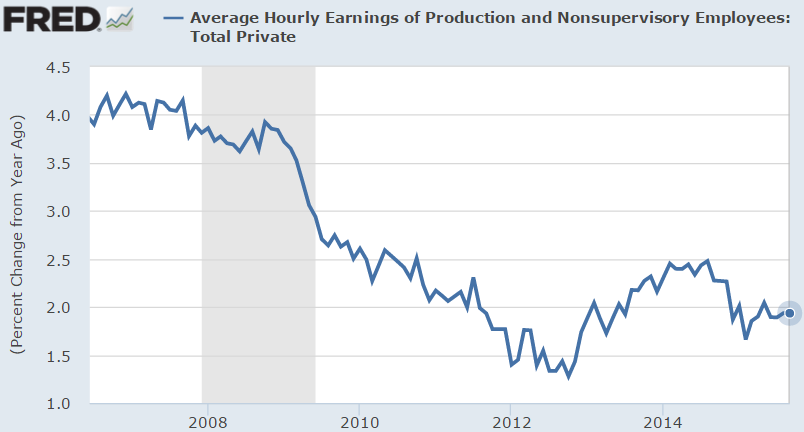 Given this latest shift in sentiment, we would like to conduct a quick survey on the timing of liftoff in the US. It's a single question (below) and the results will be published here and in the Daily Shot.
_________________________________________________________________________
Sign up for our daily newsletter called the Daily Shot
. It's a quick graphical summary of topics covered here and on Twitter (
see overview
). Emails are NEVER sold or otherwise shared with anyone.
_________________________________________________________________________
From our sponsor, Fitch Solutions
: Sign-up for
Inside Credit
- a weekly wrap-up of noteworthy Fitch content delivered every Friday.
SoberLook.com